Trust isn't given it's earned
Anant prides himself on providing unparalleled customer service to his clients. Please review all audio, text, and video testimonials.
---
Sabrina and Daryl
Sabrina and Daryl were able to win a multiple bid scenario and find a wonderful condo in the Southport Corridor area. Please read their buyer review below.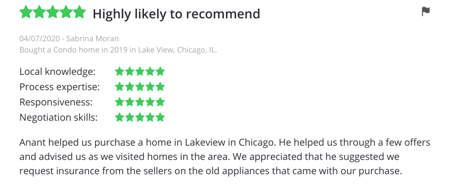 Martin and Phoebe
Martin and Phoebe had already purchased a home in North shore. We were able to sell their home in Roscoe IL so they can alleviate the stress of owning 2 homes. See their seller review below.
Tushar G
Tushar and Shubhangi were able to sell their Plainfield Home. They received $20k more than a comparative sale just across the street! Watch the listing video and my client's review below
We worked with Anant out in the suburbs and he was very professional and really helped us through the whole process and in a tough market too. We really relied on him for his expertise and felt we got a great price because of his help. I would recommend Anant very highly.
Joy E
Congratulations to my buyer client Joy E on a brand new construction beautiful single family home in Bronzeville!
Anant is the man. He walked me through the process and explained every detail with me. He was definitely hands on and was available to answer any questions I had. The whole process was phenomenal. I couldn't ask for a better realtor.
Suresh D
Suresh needed a quick sale due to the fact that his tenant relocated for a new job. We properly positioned his property to maximize viewings and get top dollar. The result: Suresh received 101% of the list price! Watch the property video and read his testimonial. Thank you Suresh!
Anant did an excellent job marketing my property. His knowledge and expertise led my property to sell within 10 days over asking price! I appreciate his transparent communication and his commitment to his work since he was always available. Highly recommend agent!!
Abel S
Trust is the #1 requirement all #chicagosellers deserve. My client Abel S. Trusted me to provide a roadmap to home selling. Im pleased to announce that his mom's#evanstoncondo sold for 102% of list!Congrats!
????
????
????
????
????
????. Watch the property video and read Abel's testimonial!
"Anant handled the sale of our condo. He was diligent in all aspects of the process. He shepherded us through the preparation, the listing, the contract negotiations, and the closing. He is an excellent project manager who kept us up-to-date and is responsive on all aspects of the matter. I would highly recommend him as a broker."
Billy C
"Great job, Anant! Very helpful in explaining the process and steps required to keep the momentum going. Knew what I was looking to do and helped me achieve it."
Thomas K
Tom required his bucktown listing to be sold and he needed a new smaller condo. We were able to accomplish both. His bucktown townhome sold for 99% of the original list price. Watch the property video and Tom's testimonial!
"Both of my transactions (sell current home/ purchase new) had some significant challenges, as well as some non-traditional aspects. AD did a fantastic job helping ready my place for sale (my work schedule simply wouldn't allow me to be around for necessary appointments) and navigating the transaction details. Allowed me to concentrate and not disrupt my work schedule"
Chris S.
Chris was able to sell his Logan square brick and timber loft in 5 days for above list price! Thank you Chris for your business! Please see lifestyle video and Client testimonial!
"Anant had a clear plan for the successful marketing and sale of my condo. From staging to photos and video, Anant was professional and very knowledgeable about his profession. Additionally, he set up a filter to send me available properties for rent and sale in the areas I indicated. I believe it was Anant's diligence that enable my condominium to sell as quickly as it did, resulting in a sale price over asking."
Aaron and Kari F
Congratulations to my seller clients Aaron and Kari F! They sold their #eastvillage condo. Below is the beautiful lifestyle video we created for the property/location:
Cameron Fitzmautrice
"Anant was great to work with. As a first time home owner I was new to the process. Anant was very knowledgeable and stayed in contact with me daily. I was shown multiple homes that met my budget and needs. We found a perfect condo at a great price. Anant was there every step of the way including negotiations, inspection, and closing. We were also able to close in less than 30 days! I would highly recommend Anant to anyone buying or selling a home."
Sam Mathew
Anant Deoras managed the sale of my property in Chicago. As sellers, we always think our home is worth more than what sellers are willing to pay. Anant took the time to perform a detailed market analysis, and determine the best competitive selling price. We walked through my property together before being put on the market, and suggested improvements that buyers were looking for and willing to pay for. He also provided reputable contractors from his long list of contacts that could assist with certain updates.
Once the property was listed, he provided me a weekly update of the market activity, including feedback from potential buyers and their agents. This was valuable to me, since I wanted unfiltered feedback on the property. He's a busy guy, yet always took time to return my calls and discuss any concerns.
Ultimately, we were able to get the highest sale price in the building! During the sale transaction, he maintained his high level of communication between the buyer, the lawyers, and the lender. It's not easy, but he make sure it all went smoothly.
I will use Anant Deoras again for future real estate transactions!
Thank you Anant!
Brett Siglin
"I met Anant briefly before I got started on renovating my penthouse condo near wicker park early in this past spring. I needed to sell it quickly and wanted to list it by mid-April so I spoke to a few different real estate agents. After a week or two of deliberation, Anant's team proved to me that they have the recipe and drive for success. Their online marketing tools and strategies far outshine the competition. Anant also served as a tremendous source of referrals for contractors, stagers, attorneys, locksmiths and house cleaners. As an out-of-state owner, I was especially vulnerable to be taken advantage of by scrupulous contractors and others during the critical weeks leading up to listing my property, but Anant had my back every step of the way and helped me to manage the property and keep an eye on all work being done so that the place would outshine the competition. The end result was phenomenal-- 5 offers in less than a week and a smooth as can be closing. My only regret is that I don't have more properties to own and sell in the City"
_____________________________________________________________________________________________
Robert and Adell Truevillian
"AD is an "all in" totally hands on broker. My husband and I told him what we were looking for and he listened. One of the things that really impressed us was if we would send him a house that we were interested in seeing, he would look up all of the specs and then respond either with " I know that you wanted...., and this house doesn't have that, or he would say " it looks like it may line up with what your looking for". We believe that he took the time to get to know us and our children and he, along with us, would visualize how each house would/would not work for our family. We appreciated his attention to detail and his professionalism. We were especially grateful that he was not pushy and did not try to sway us to hurry up and pick something. We also appreciated how encouraging he was when it seemed that we weren't going to find the house of our dreams and then when we did in fact find the very house that had our names written all over it, he worked diligently to make our dream a reality. We would not hesitate to recommend him to our friends, family, or anyone that we know that is looking for a home. AD knows his stuff and is all about handling his clients business."
---
Paulina and Vittorio
Click here to watch their video testimonial!
So, back in October 2015 I sent out my home buying process email to my client Paulina. She might have contacted me a little before that. Fast forward more than 19 months later and we have some brand spanking new homeowners! Its been quite the journey and it ended with a great townhome in Albany Park! Thank you for entrusting me to advise you in the home buying process. Additional thanks goes to the team of Gustavo Herrera (GRate lender) and lawyer Kevin Mitrick."
---
Adam Watson
Congratulations to my buyer client Adam. You started as a client but I'm happy to say you ended as a friend. Can't wait to sip some old fashioned with you in that cool kitchen! Another smooth closing from Chai Charin at cennential mortgage and the legal talents of Kevin Mitrick.
---
Adam C. And Michelle C.
"I met Anant nearly two years before we ultimately ended up closing. He initially helped me as I tried to purchase a condo on my own and was extremely patient, even after it became clear that my financial situation was preventing me from finding a suitable place. Around a year later when I was able to add a co-borrower, I continued working with Anant as he led my co-borrower and I through the process as first time homebuyers. We had TONS of questions along the way and Anant was always available to answer or direct us to the appropriate resource. He was able to work around our limited availability and got us to see units as quickly as possible. Even after we've closed, he has still proven a valuable resource in helping us navigate minor bumps and issues as we settle into homeownership."
Sherry C.
Anant has been with me through the house buying process all the way back when it started 2 years ago. It has been quite the long process, mostly due to the combination of changing factors in what I was looking for within those 2 years and a short supply in the areas I was interested in. Throughout that time, Anant was patient, responsive, and helpful. He never rushed me in any decision and only gave me valuable feedback based on his experience and knowledge. He made every opportunity to be at every showing and pointing things out that I would not have noticed. He understands the Chicago market and did a great job in making this process as smooth as possible.
Veronica G
I was referred to Veronica by one of my friends. She did not quite know what specific neighborhoods she wanted to live in. However, she had a general idea of what she wanted in a condo. Even though this was a "warm" lead, Veronica did not personally know me. Through patience and being responsive I was able to gain her trust. She ended up closing on a Irving Park condo within her budget.
---
Click the image above to listen how we assisted Melissa on selling her two bed condo in the west town community. The transcript is below:
"Anant was very helpful in helping me get my condo sold so I could move out of the city and get on to the next chapter of my life. So I was very happy to have completed that. I think for this transaction there was a little bit more back and forth anticipated between the sellers, the attorneys and my attorney and he did a fantastic job of keeping me apprised of what was going on and letting me know what it meant, what was significant and what was not significant. So I kept my wits about me during the course of the final stages. So he basically helped me keep my sanity."
Click the image above to listen How we helped Rob by never wasting his time. The transcript is below:
"He did a great job of showing me properties. He always made sure that the properties we saw were types of things that I liked so we maximized my time. He was very good at determining up front whether it was worth my time to see a particular property."
Click the image above to listen How we helped Larry by finding him the home he wanted quickly. The transcript is below:
"The results were that we got a new home! He did a number of things online in lining up various properties until we made up our mind. Anant came down and spent most of the day going through the properties with us and we told him exactly what we were looking for. He led us to this property and helped take care of everything from there!"
Click the image above to listen How we helped Damon Caliendo sell his home during the holidays. The transcript is below:
"The results I got were a lot better considering the time of the sale. We put the house up for sale a week before Christmas and Anant was sure to let us know ahead of time that we were selling at a slow period. For when we sold, everything was on point, or better than expected. I haven't sold a house in years and was not sure what exactly to expect, especially selling in the dead of winter. It went smoothly, both my brother and I were very pleased from start to finish. Anant was very precise and direct with his emails. Everything was said and done to a tee!"
Click the image above to listen How we helped Dr. Eappen by getting the necessary repairs done prior to his home sale. The transcript is below:
"Anant was very helpful finding tradesmen to do the minor repairs on the condo before we put it on the market. I am far away from the property so he would go and let the contractors inside in order to do the work. These things were very helpful to me since he was right there in the city."